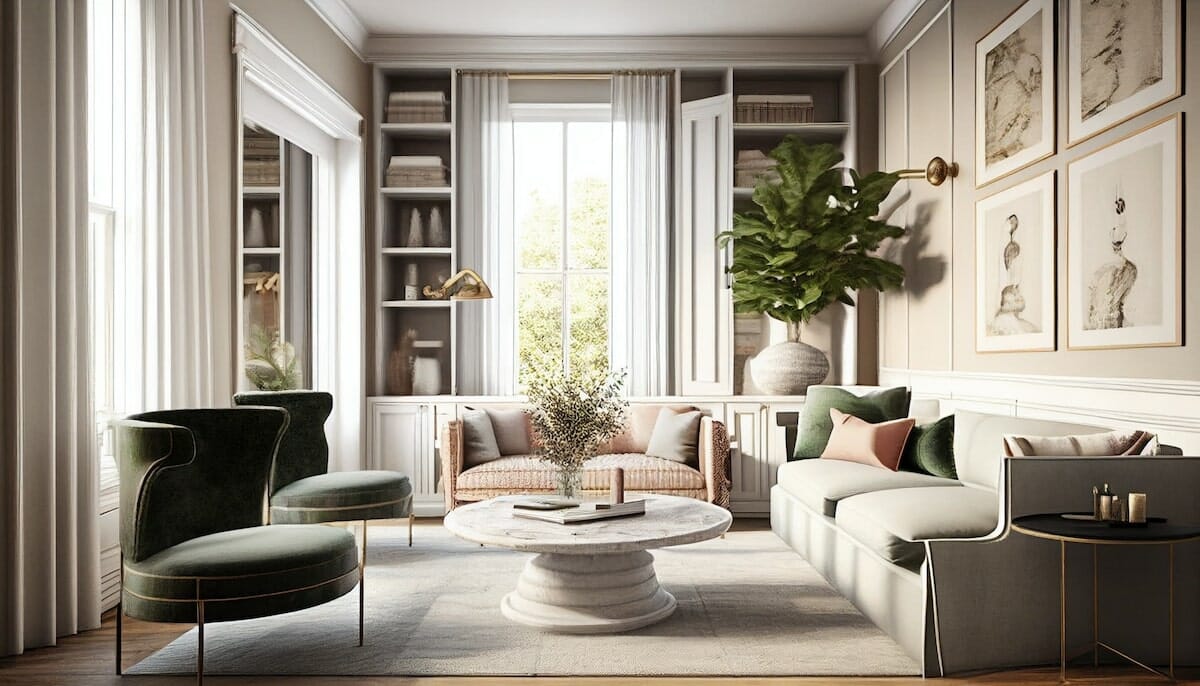 From dull and empty to bright and modern in just a few steps. This makeover shows why organic contemporary spaces are one of the hottest trends on the rise in home design. The new interior is brimming with soft textures and earthy shades that exude warmth, comfort, and classic good taste. Read on to find out how unexpected changes can have a massive impact on your home's overall aesthetic!
The Challenge: Organic Contemporary Interior Design 
As the construction of the client's townhome progressed, she started thinking about hiring expert interior design professionals. The main living area featured a dining room, kitchen, and living room, all integrated and needing a professional design ideas to tie everything together seamlessly. In addition, comfort was of utmost importance, so the client approached Decorilla looking for someone who could tick all the boxes stylishly. The designer also had to: 
Assemble an open-space living area with a timeless, inviting vibe

Replace a fireplace with grand built-in shelving to adorn the wall behind the sofa

Source all new organic contemporary furniture and decor

Ensure that the interior design is both pet and kid-friendly, with elegant yet low-maintenance features 
Not sure if an organic contemporary look is right for your home? Then take our

Free Interior Design Style Quiz

to find your personal style today!
Organic Contemporary Furniture Inspiration

Organic trends in design seamlessly blend the sleekness of modern minimalism with the natural beauty of the great outdoors. For homeowners seeking a chic yet comforting ambiance, this hybrid approach offers a stylish marriage of modern sophistication and functionality. Expectedly, the inspirational gallery of images the client provided brimmed with warm neutrals, luxurious textures, and earthy materials. It depicted mainly contemporary style ideas, each oozing an urban, serene, and elegant aesthetic. 
Organic Contemporary Interior Design Ideas & Moodboard
The client then completed Decorilla's fun, interactive design questionnaire, enabling her to communicate her needs, preferences, and lifestyle traits clearly. Armed with this information, the Decorilla team was able to propose two of their creatives who perfectly matched their clients' vision. The client was presented with two attractive options by matching designers, making a choice between the two quite difficult. Ultimately, she decided to move forward with Anna Y.'s organic contemporary interior design ideas.
Anna's moodboard celebrated organic contemporary interior design style by highlighting earthy color palettes and highly textured details. In order to achieve a controlled cottage-core feel, she opted for a chic combination of light brown, black, and sage green. The elegant yet detailed and layered design also utilized soft tonal transitions between whites, beiges, and other shades to add a subtle sophistication.  

Organic Contemporary Design for a Living and Dining Room
The resulting design is a remarkable living room with proper organic contemporary flair. It feels like a low-key luxurious space featuring an exquisite combination of clean yet soft lines, muted earth tones, smooth transitions, and eco-friendly craftsmanship. Centrally located within the room is a conversation area turned focal point with its greens, off-whites, and soft browns. Meanwhile, the built-in provides an artistic vibe in the background, full of tranquil decorative elements that promise to soothe and delight.
Beyond the palette, this modern living room's character also reflects in organic contemporary furniture, its shapes, and subtle textural contrasts. The arrangement cohesively blends a variety of style influences, such as the French countryside and mid-century modern. Ranging from rich finishes and natural fabrics to graceful accents, every detail in the room takes its cue from the organic world. Anchoring this gorgeous set is an antique rug that seamlessly blends visual interest with warmth and comfort.
The dining room stands out as a prominent part of this organic contemporary interior design, with its warm, detailed composition. Soft pastel tones blend perfectly with different wood finishes in a palette ranging from beige to brown. In addition, both masculine and feminine elements are balanced throughout. The wooden dining table's texture gives richness to its soft, streamlined form, while the mid-century-inspired chairs add an extra touch of elegance to the setting. Meanwhile, flowing silhouettes and geometric decorative details create a sculpted look giving away an impression of a fully handcrafted design. 
Organic Contemporary Furniture Shopping List
Decorilla streamlines the interior design process, enabling you to achieve a stunning home with ease. Their innovative concepts encompass hand-picked furniture and decor components, presented in strikingly realistic 3D visualizations. In addition, each specially curated shopping list provides exclusive trade discounts paired with a comprehensive implementation guide and professional advice. With the added luxury of a white glove concierge service, homemaking has never been smoother, more accommodating, or more stress-free.
Modern Organic Design Top Picks
If you wish to add some organic flair to your contemporary home, check out this list featuring a few of our favorite items. You might fall in love with them, too.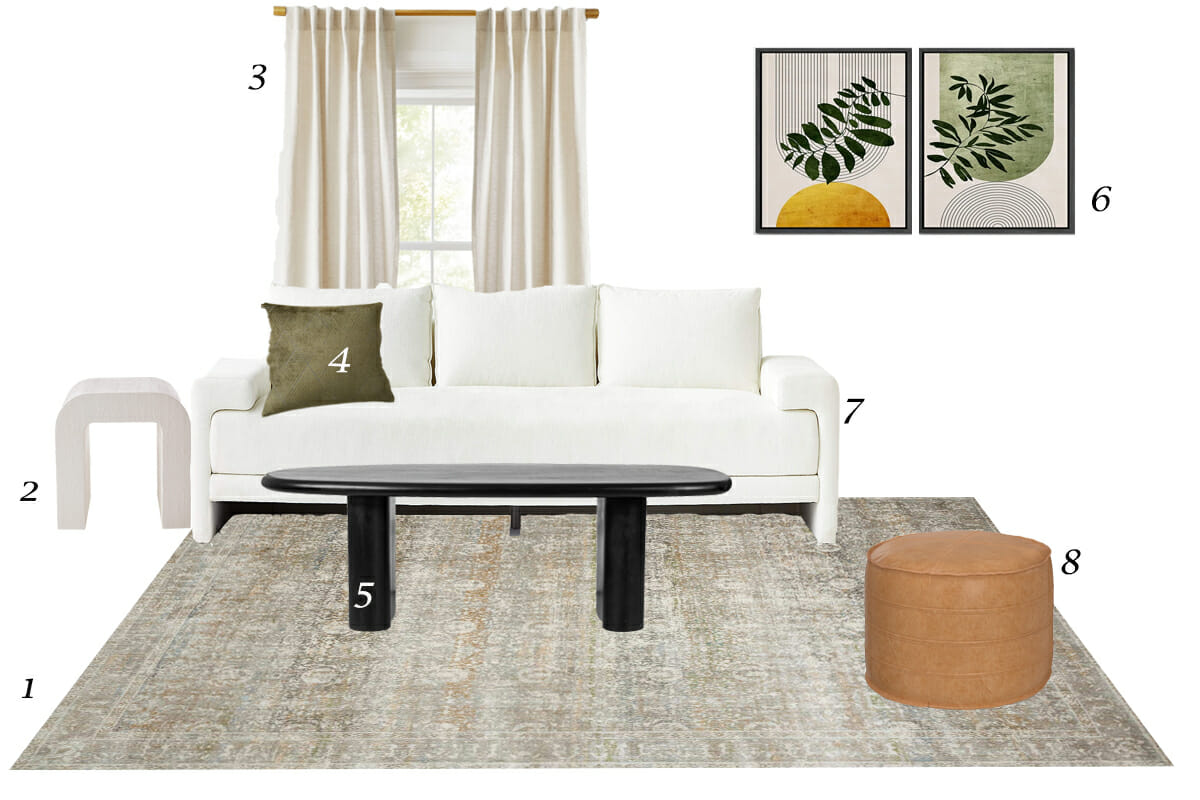 Looking for authentic, modern organic design solutions?
Streamline your project with the help of our vetted interior design professionals. Schedule a Free Online Interior Design Consultation to learn more about your options today!

Images: [Decorilla projet images]